WHY DOES THE MARKET MATTER?
0
Patrons
average per week
0
Vendors
average per week
We go to the market every Saturday. We can shop for the next week, eat a healthy breakfast and let the kids run around and dance to Cajun music. It's a great way to spend the morning.
Your donation directly supports a healthy local food system, providing a sustainable livelihood for small family farmers and making fresh, healthy food accessible to everyone. Join us in cultivating a healthy local food system with a donation today.
The Lafayette Farmers & Artisans Market is a 501 (c) 3 non-profit organization. Contributions are tax-deductible to the extent allowed by law.
Our Birth
In early 2013, then Lafayette City-Parish President Joey Durel brought together a diverse group of folks, all with one goal in mind:  To develop a Farmers and Artisans Market at the city's newly-acquired Horse Farm property in the center of Lafayette. After months of planning the Market Advisory Committee gathered at the Horse Farm before 6:00 a.m. on June 1, 2013 to welcome 45 vendors to the first Lafayette Farmers and Artisan Market.
Celebrating our 5th Birthday
In July 2018 we celebrated 5 years of servicing the community. At the gathering, Market Director Mark Hernandez said, "The object is to give farm-based vendors an opportunity to sell their wares at a good price. Each week we have over 40 vendors who come out from 24 different parishes. The great thing about being at a farmers market is it allows them to get to know their customers and for the customers to know their product."
Growing and Growing
As the market grows, our board will seek to maintain our unique balance of produce, crafts and ready-to-eat food. We look forward to increasing our educational outreach and hosting more events at the market. But the biggest change will be the area around us, as Moncus Park develops into a first-rate city park. The large hill created for the park is now the highest point in Lafayette and the master plan calls for additional forest plantings along the edges of the fields, rows of new live oak trees throughout the park, shading trails and other family areas, and a cypress forest along the edge of the wetland pond. Very exciting stuff!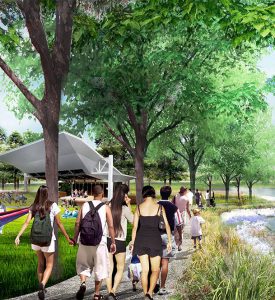 Have you noticed the recent construction at Moncus Park?
A vision to bring a "world-class" central park to Lafayette is finally becoming a reality as Moncus Park, the 100-acre green space located at 2913 Johnston St., transforms into a multi-use central park in the heart of Lafayette.
The park will be transforming into an oasis that will include a new two-way bridge, a Farmer's Market Pavilion, amphitheater, walking and biking trails — including a 2.5-kilometer loop, arboretum, botanical gardens, multiple playgrounds, an off-leash dog park, a mini-golf course, treehouses, a sculpture garden, and more. The park will also display some of the region's most diverse ecosystems for residents and visitors to enjoy.
Louisiana Cottage Food Laws Generally, Cottage Food Laws permit the in-home production and sale of non-potentially hazardous foods. Learn more about the Louisiana Cottage Food Law here.
SARE Grants in Louisiana Louisiana Sustainable Agriculture Research and Education (SARE) is a professional development program sponsored by Louisiana State University AgCenter and the Southern University Agricultural Research and Extension Center. We work together to implement programs that enhance the capabilities of Louisiana's ag
professionals in the area of sustainable agriculture.
Kid's Corner Interactive websites and games designed to teach children the importance of nutrition, physical activity, and other positive health behaviors.
USDA's Teacher Resource Page Curricula and Lesson Plans designed to help teach nutrition and food education to all grades.